Mediterranean Algae
Olivolio Mediterranean Algae Anti-Pollution Shower Gel 250 ml
Olivolio Mediterranean Algae Anti-Pollution Shower Gel 250 ml
13.50 €
Readily Available
FOR ALL SKIN TYPES     

 SEAWEED
The unique properties of Seaweed are beneficial to the body and face. It is an excellent source of micro-
nutrients including folate, calcium, zinc, many antioxidants and minerals. Seaweed also contains
omega-3, fatty acids and is a great source of iodine.
ANTI-POLLUTION formula protects skin against enviromental effects.
SPIRULINA is known as one of the " Super foods " , contains high quality of proteins,vitamins & minerals

    • Lives skin clean & really soft
    • Anti-Pollution formula
    • 100% Organic Seaweed & Spirulina

Enriched With 100% Organic Mediterranean Algae 
Parabens & Mineral Oil Free  
No Tested on Animals
92% Natural Origin Ingredients
MADE IN GREECE
250 ml /8.4 fl.oz.
---
The unique properties of seaweed are beneficial to the body and face.It is an excellent source of micronutrients including folate, calcium, zinc, many antioxidants and minerals. Seaweed also contains omega-3, fatty acids and is a great source of iodine.
ANTI-POLLUTION formula protects against enviromental effects. Other Natural Active Ingredients:Olive oil, Aloe Vera, Pro-Vitamin B5, Argan oil, Salvia, Vitamin E, Ginseng, Broccoli, Spirulina

Apply to your body using yours hands or sponge.Gently massage over skin to form a rich lather. Rinse thoroughly.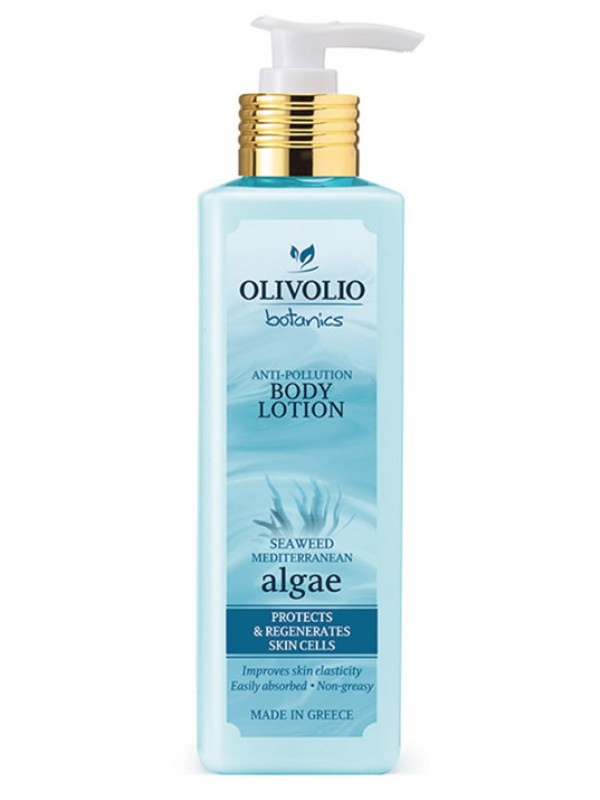 Olivolio Mediterranean Algae Anti-Pollution Body Lotion 250 ml
Readily Available
16.00 €
Add to cart